Lahore Smart City is an LDA-approved housing complex located at Lahore Bypass Road near Kala Shah Kaku. The society has brought a new lifestyle and smart features to its residents. Smart City Lahore is the first smart city in Lahore and 2nd in Pakistan. Moreover, a smart city is designed around the concept of eco-friendly and digitally interconnected urban development.
Lahore Smart City, like Capital Smart City, aims to provide the necessities for daily life while promoting a sustainable urban lifestyle for the general public. Additionally, every piece of public infrastructure in a smart city is data-driven. Residents, municipal buildings, transportation infrastructure, etc. are used to collect the data. All the amenities that would be offered in Capital Smart City Islamabad will also be available in Lahore Smart City. The LSC project will take up about 20000 Kanals. In addition to being one of the world's most populous cities, Lahore serves as the provincial capital of Punjab.
Due to the superior architecture, the magnificence of a luxurious lifestyle, cutting-edge construction, futuristic planning, clever engineering solutions, and effective designs, it is the finest investment chance in Lahore.
Lahore Smart City Developers and Owners
Lahore Smart City is developed by well-reputed FDHL, HRL, and Surbana Jurong SJ developers who earned a good reputation in the real estate sector. The developers have previously constructed and delivered plenty of top-class projects.
These are the names of two famous Pakistani real estate developers. Both of them are experts in their fields. Additionally, they are famous across the country for their substantial projects. Numerous well-known schemes, including Bahria Town, DHA, the Motorway, and others, are the product of HRL.
The following are the developers of the LSC project.
Future Development Holdings Limited (FDHL)
FDH belongs to the elite group of real estate developers. It belongs to the CSCI developers. Modern housing societies built to international standards are the strength of FDH. Moreover, they contribute to the construction of cutting-edge smart cities that offer their clients a luxurious lifestyle as well as financial advantages. FDHL is likewise subject to the 1984 Companies Ordinance. This organization, which is a leader in real estate with expert-level technical and leadership skills, was built through the cooperation of numerous national as well as international organizations.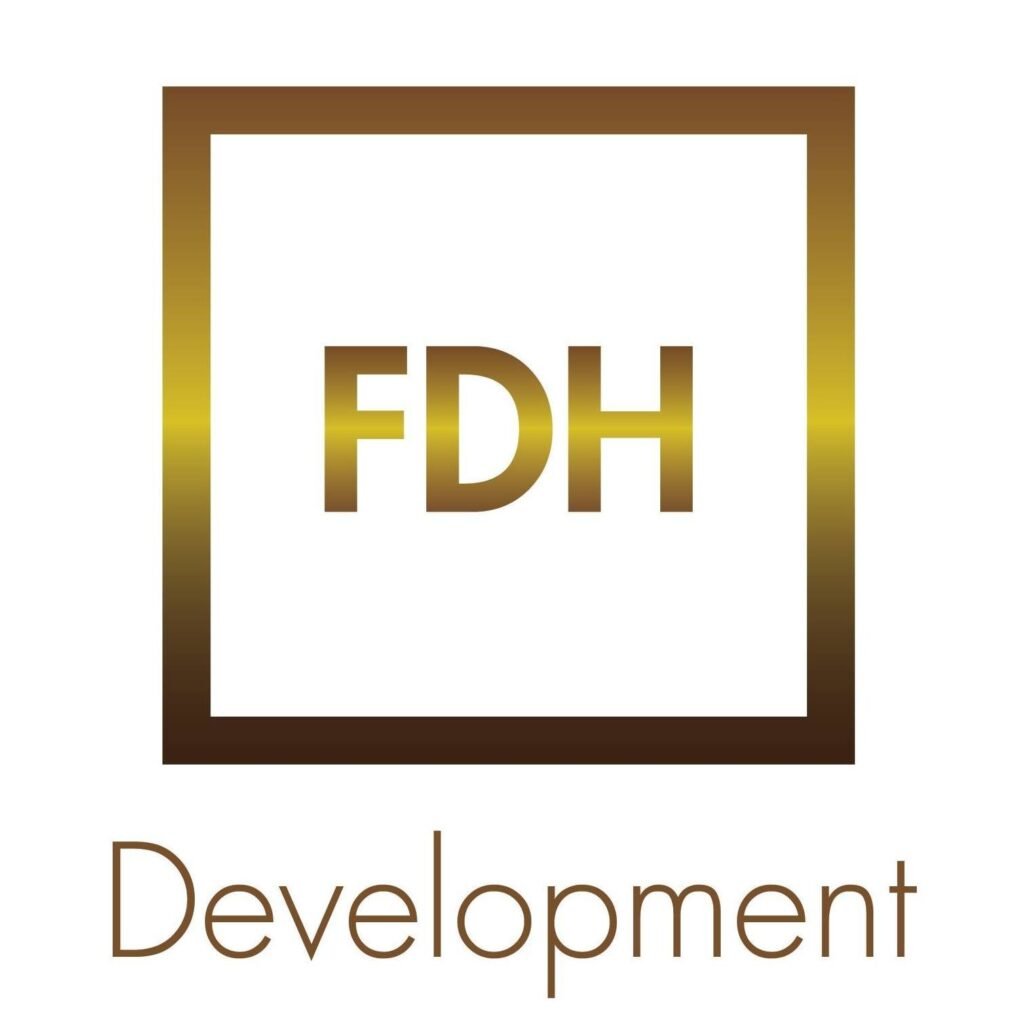 Habib Rafiq Limited (HRL)
HRL also contributed to the development of the Lahore Smart City project. It is another top building company in Pakistan. They are famous for their prestigious engineering and building accomplishments over the past fifty years. Additionally, their success is undoubtedly a result of their constant dedication to the needs of their clients and their work.
In the field of estate development, Habib Rafique Private Limited is a benchmark for excellence. Through their diligent and sincere work, HRL has come a long way to accomplish this feat of excellence. Moreover, for more than 50 years, the company has established numerous remarkable accomplishments in multiple areas.
Surbana Jurong (SJ) is proud to have had the opportunity to design and organize this exceptional as well as elegant society. It is a global urban, infrastructure, and managed services consulting company with over 70 years of successful project execution. Moreover, Surbana Jurong has developed over 100 industrial parks globally, more than a million homes in Singapore, and master plans in over 60 different nations. FDHL hire Surbana Jurong for designing the master plan for LSC. Additionally, it has a team of expert designers, engineers, and architects who have years of experience in this field.
Lahore Smart City is an approved project with a NOC from the Lahore Development Authority (LDA), which implies it will have access to all of life's necessities such as water, gas, and electricity. Moreover, it is a housing project that has finished all legal standards and is entirely safe to invest in. The approved housing societies have better prospects for growth and success.
Lahore Smart City Location & Map
The location is crucial when investing in real estate. Before buying a property, a real estate investor must be aware of the advantages and disadvantages of a property's location. The planned location of LSC is supposed to be connected via important road networks to and from Lahore, similar to Capital Smart City Islamabad. According to sources, LSC's planned location will be along the Lahore Bypass road, with access from the N5 GT Road and the Lahore-Islamabad Motorway (M2) being made simple. In addition, the project location is among the best in the area due because of how easily it can access the major parts of the city. Real estate industry experts have praised LSC's debut.
Some real estate agents believe that this endeavor has the potential to be just as profitable as Bahria Town. Moreover, the agents reaffirm that the chosen location for LSC has excellent access to two important road networks that connect Lahore with the rest of Pakistan. As a result, it is a sought-after investment location for those seeking for positive mid-long-term yields. You can also check Nova City Islamabad location.
Accessibility Routes of LSC
To access Lahore Smart City you can use the following ways:
Lahore Smart City is located at Lahore Bypass
Nearly 4 min drive away from GT Road
Nearly 9 min drive away from M-11 Motorway
Nearly 9 min drive away from M-2 Motorway
Nearly 19 min drive away from Lahore Ring Road L-20
Nearly 11 min drive away from Kala Khatie Narang Mandi Road
Also, it is 30 min drive away from Allama Iqbal International Airport
Lahore Smart City nearby Landmarks & Places
Lahore Bypass
UET Lahore
Ferozwala
Kala Shah Kaku
Kot Abdul Malik
Shahdara Town
M-11 Motorway
Master Plan of Lahore Smart City
The Singapore-based Surbana Jurong (SJ) consultancy company created the Smart City Lahore master plan, and Norman Foster is the project's designer. Surbana Jurong has effectively translated the concept of European development into the planning of this massive project. Moreover, it provides a diverse variety of housing choices based on density.
The total geographical area for the LSC is 20,000 Kanals. Two blocks that are only intended for residential use have been created by the administration:
Executive Block
Overseas Block
The details of these blocks are given below:
Executive Block is reserved for Pakistani residents who want to live the best smart living possible. Additionally, all of the contemporary utilities and amenities will be available in this Block. The Executive Block currently offers a variety of residential plots, including:
5 Marla
10 Marla
1 Kanal
4 Marla (commercial)
8 Marla (commercial)
Lahore smart city overseas block is specifically designed and planned for Pakistanis who live in other countries and want to experience the same living standards and amenities in Pakistan. Therefore, this building is constructed with global infrastructure to meet the needs of individuals living abroad. The block offers a wide range of residential as well as commercial plots such as:
5 Marla
10 Marla
1 Kanal
4 Marla (commercial)
8 Marla (commercial)
Overseas Prime Block in LSC
The launch of Overseas Prime Block has been announced by the LSC management. Overseas Prime Block would consist of Sectors A and B combined. Moreover, on December 22, 2022, voting for this district is anticipated to take place.
The Lahore Smart City's Executive Block and Overseas Block are then further divided into a variety of districts, including the following:
Lahore Smart City Districts
The following districts of LSC include modern amenities:
Residential Villas
Residential Plots
Hospitality
Healthcare
Education
Religious
Retail
Sports District
The LSC Sports District is located in a sports zone that meets worldwide standards and offers a variety of amenities to its residents so they can enjoy not only recreational sports but also other forms of entertainment. Moreover, it has a sports academy where locals can learn about their preferred activities, as well as shops with sports-related merchandise. The following are some of the primary components of Lahore's smart city sports district:
Retail
Race track
Cricket stadium as well as Football stadium
Food & beverage
Residential apartments
Education District
Schools
Colleges as well as Universities
Medical colleges
Daycare centers

Theme Park of LSC
The theme park in the LSC is exclusively designed for amusement so that locals could take a break from their busy schedules and find some alone time. Also, it offers different points that confirm the desired location to spend holidays.
Retail
Bird Park
Holiday Resort
Food as well as beverages
Street food truck park
Silicon Valley
The Silicon Valley of Lahore will use for cutting-edge innovations and information technology. It will also use for educational and skill-development purposes.
Retail
IT campus
Warehouse
Corporate offices as well as Technology operational offices
Residential apartments
Lahore Smart City Mosque
Mosques will make up the LSC Mosque District, allowing residents to easily participate in religious activities and serving as a symbol of the Muslim community's cohesion.
Grand Jamia Mosques
Sector Mosques
Healthcare Districts in LSC
Clinics
Hospitals
Laboratories
Lahore Smart City Payment & Installment Plan
Lahore Smart City plots for sale are offered in installments with simple payment plans. The LSC, like Islamabad Capital Smart City, will have a 10% down payment plan, followed by a confirmation payment and equal quarterly payments. For prelaunch reservations, the following Lahore Smart City payment and installment plans are offered. Countryside Residencia also offers an easy and affordable installment plan. The payment plans of Lahore Smart City are as follows.
Lahore Smart City Overseas Block
Lahore Smart City Executive Block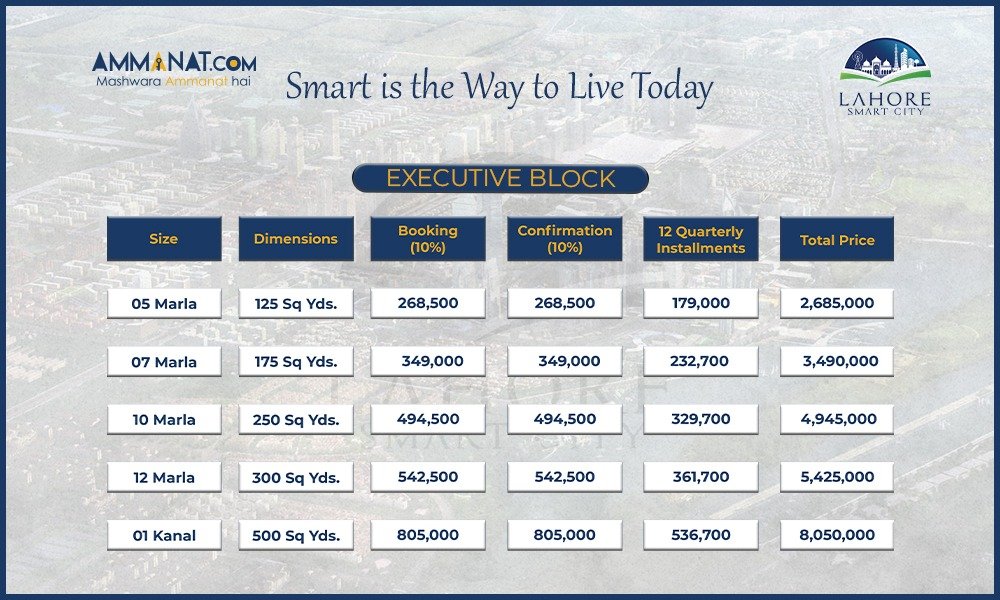 Lahore Smart City is an excellent investment place due to the following key features:
Shops
Affordability as well as Accessibility
24/7 security
Maintenance
Water Resources
Eco-community
Beautiful Entrance
Quality Development
Water, Gas, Electricity
Sewerage as well as waste disposal system
World-class infrastructure development
What is the concept of a smart city?
The main features that define any community as a smart city are its advanced technologies and systematized infrastructure. People are rushing towards advanced technologies in every area of urban living in a world where everything can be done with a single click. Moreover, a sizable portion of the information it gathers will store virtually on a digital platform that will enable the administration to keep tabs on municipal operations. Everyone values a place that offers easy access to the necessities of living as well as safety.
LSC's foundation is confidential urban management. To achieve high productivity and control, it ensures that people are constantly involved. It also tries to acquire the most recent information and communication infrastructure, which will result in better products and services.
The main objective of this massive housing construction is to raise living standards while promoting local economic development. Moreover, it is a Grade 8 project that also uses an eco-friendly, independent approach. Following are the components includes in Lahore Smart City.
Smart Housing
LSC provides residents with high-quality living standards and unique experiences, as well as a modern infrastructure with smart technologies integrated into houses, making it a smart housing plan.
Smart Economy
This housing development will have economic and commercial hubs in the center, which will help the country's economic progress. Furthermore, it will serve as the region's major business hub.
Smart Environment
The green scenic beauty and other natural environments improve the LSC. In a housing society, 30% of the land is set aside for natural growth. Moreover, the developers also ensure that it will not effect natural developments.
Exceptional Facilities and Amenities
Along with the necessities of living, LSC residents will take advantage of smart amenities in the housing society. Some of them include:
Educational Institutes
Since the developer intends to build world-standard schools and colleges in its education district, LSC is a great place for families. Moreover, colleges of medicine and universities are also being planned for higher education. Daycare facilities will also available here because this housing society aims to provide a smart living for families.
Hospitals & Clinics
Medical facilities will be available within the housing society, so residents won't need to travel far for them. In Lahore Smart City, you'll find hospitals, clinics, and renowned Pakistani laboratories of the highest caliber.
Wide Roads and the Main Boulevard
The society is an ideal living place. Moreover, it has wide streets and Main Boulevard 200 feet wide. The wide roadways have a significant impact on how people live. So, the developers want to give their inhabitants a spacious living environment.
Business and Commercial Hub
The society is designed to meet all types of commercial and business needs of people living in the society. It also has a wide commercial area and inhabitants may fulfill their needs within the community.
Lahore Smart City Booking Process
The booking procedure is very straightforward. All you have to do is follow the below guidelines:
Complete filling out the registration application.
Attach a copy of the Applicant's CNIC.
Make the down payment in the form of a cheque or money order payable to "Lahore Smart City," but always double-check the management procedure if there are any changes.
Cash transfers require management approval.
Submit all relevant forms, pay the fee, and get a receipt
Frequently Asked Questions (FAQs)
Ans. Lahore Smart City is a new housing project that offers peaceful settings and also first-rate facilities at incredibly low prices.
Ans. Yes, the Smart City in Lahore is a legal housing community. LDA has granted its NOC. Moreover, your investments in LSC are safe.
Ans. No, the Lahore Smart City project offers affordable housing with a simple installment plan. Moreover, the builders have successfully established a balance between comfort and affordability.
Ans. Lahore Smart City is situated close to GT Road on the ring road.
Ans. FDHL, HRL, and Surbana Jurong (SJ) are the developers and designers of LSC.
Lahore Smart City is a luxurious project to provide high-quality living standards and a luxurious lifestyle at very affordable prices. This society's prime location, which draws investors from around the world, is one of its most alluring features. Moreover, you can take advantage of Lahore Smart City's top-notch amenities and fantastic investment possibilities to generate high returns on your capital.
To know about more profitable investment projects you can read about Countryside Farms and Hawks Melbourne.