There are many lodging areas in Rawalpindi and Islamabad, but the excellent area of Gulberg Greens Islamabad is pretty much as delightful as Islamabad. Gulberg Greens Islamabad is known as one of the top and popular societies across all the Pakistan. Due to having a good reputation and quality of work, the society caught attention of investors and general public. Gulberg Green Islamabad is also having prime location and it is going to be a main hub of Rawalpindi/Islamabad for residence and also for commercial purpose.
Majority of the best things in life are scant and many individuals want to have them, Gulberg dream villas are one of them. Dream Villas is a location of Ultra Luxury Villas in the core of Gulberg Residencia. However, investing in gulberg villas is truly an ideal choice as it provides an easy access to all its residents because it is only 15-20 minutes' drive towards Islamabad air terminal and 05 minutes' drive to G.T road. A Villa in Gulberg is one of these high esteemed rarities.
Gulberg Green Dream Villas are offering 05 Marla villas having 02 floors, 03 bedroom units with balconies and state of the art Inter-wood kitchen along with separate accommodation, imported tiles, integrated premium-quality smart devices, weather resistance paint, state of the art electrical system, contemporary style windows and many more to meet the high standard of living. These Villas are located at the start of society. Meanwhile, 05 Marla cutting of plots lie at the end of every society. Impeccably planned and taking care of each possible need of resident, these villas are situated in a peaceful and lavish green climate.
Owners and developers of Gulberg Greens Islamabad
Gulberg Islamabad is an undertaking of Intelligence Bureau Employee's Cooperative Housing society (IBECHS). Gulberg dream villas is also owned and also developed by the Gulberg greens Islamabad developers. Moreover, the owners of this particular project already had a very good reputation the real estate industry of Pakistan because of their quality of work throughout their all the projects. The goal of this project is to fulfill all the requirements of modern development and providing their clients classy living standards.
No Objection Certificate (NOC)
No Objection Certificate (NOC) of Gulberg Greens Islamabad was issued by Capital Development Authority (CDA) with the reference No. CDA/PLW/ZONE-4(14)/2011/Vol.II/407.
Other legal certificates include;
SNGPL No. SGMD-355/CR dated 08-10-2010
WAPDA MOU No. 113-16/CEP/IESCO/CE/(P&E? HS-258 dated 08-02-2011
This housing scheme is being sponsored by Intelligence Bureau in Zone-IV, Islamabad over an area measuring 16934.31 kanals.
Gulberg Greens Islamabad is located on the main Islamabad Expressway and the junction of Islamabad Zone-IV & V.  Gulberg Greens have three major commercials such as Civic center, Business Parks and Business square. Greens is also connected with the common commercial boulevard of Greens and Residencia, name as Blue Area.  The prime location of the society also had a connection with the twin cities of Pakistan. It is located at 10 minutes' drive from Noor Khan Airbase, Rawalpindi. Gulberg Greens Islamabad is the only housing society which had a prime location which makes it an ideal living society. Moreover, Block-V will have a direct interchange with Naval Anchorage.
Map of this ideal society is given below:
Master Plan of Gulberg Greens Islamabad
Gulberg Greens Islamabad had a master plan consisting in three different sections mentioned below;
Gulberg Residencia
Agro Farm Housing
Gulberg Commercial
Gulberg Residencia is designed by having aa the basic nessessities of the lives of residents in mind. It has one main commercial area, D Markaz, while a small commercial area, a mosque, schools, hospitals and parks have been designed in every block of residencia. A huge network of wide road, proper drainage abd sewerage system, electricity, gass and water supply are available in the Gulberg Residencia but none of this made to compromise on the Greenery. It is all clean and green, that provides sight with the soothing view and let to breathe fresh, pollution free air.
Area of Gulberg Residencia section consists of 15,000 kannals in which plots of different sizes are available for residence. It consists of 21 blocks which are alphabetically named. The 05 Marla Dreams Villas of Gulberg Greens are also located in this section. Residential Plots and Villas are available in the following different categories.
151.25  Sq. Yd. (05 Marla Villas)
200 Sq. Yd. (6.6 Marla)
272 Sq. Yd. (8.99 Marla)
356 Sq. Yd. (11.76 Marla)
500 Sq. Yd. (16.5 Marla)
1000 Sq. Yd. (33 Marla)
A Green Residencia Block-D is offers commercial shops. Meanwhile Gulberg Expressway connects D-Block to residential space.
Agro Far Houses are covers vast area of 3863 Kanals. This section of Gulberg Greens is providing a land shrouded in rich greenery in the midst of really evolved area. There are about 409 Farm houses in 06 executive blocks which are being offered in the layout plan of this particular section. Argo Farm House blocks are name as;
Executive Block
A-Block
B-Block
C-Block
D-Block
E-Block
Agro Farm Houses are also providing the residence and business at one place. Farm Houses sizes in residential area with distinct layout includes;
Jasmine Enclave with the area of 04 kanals.
Rose Enclave with the area of 05 kanals.
Tulip Enclave with the area of 10 kanals.
There is only 20% construction allowed and other area is specially designated for landscaping. Other than that, Trade center of Gulberg Gareens is also located in B-Block which had a major attraction there. 40*40 size commercial plots are also available in that block.
It will be the main hub of commercial section and will be located next to Gulberg Expressway. Area designated for educational institutes is also included in the layout plan of Gulberg Greens. Focusing the natural beauty, site plan has been drawn. Meanwhile, it strives to provide all the facilities to its residents.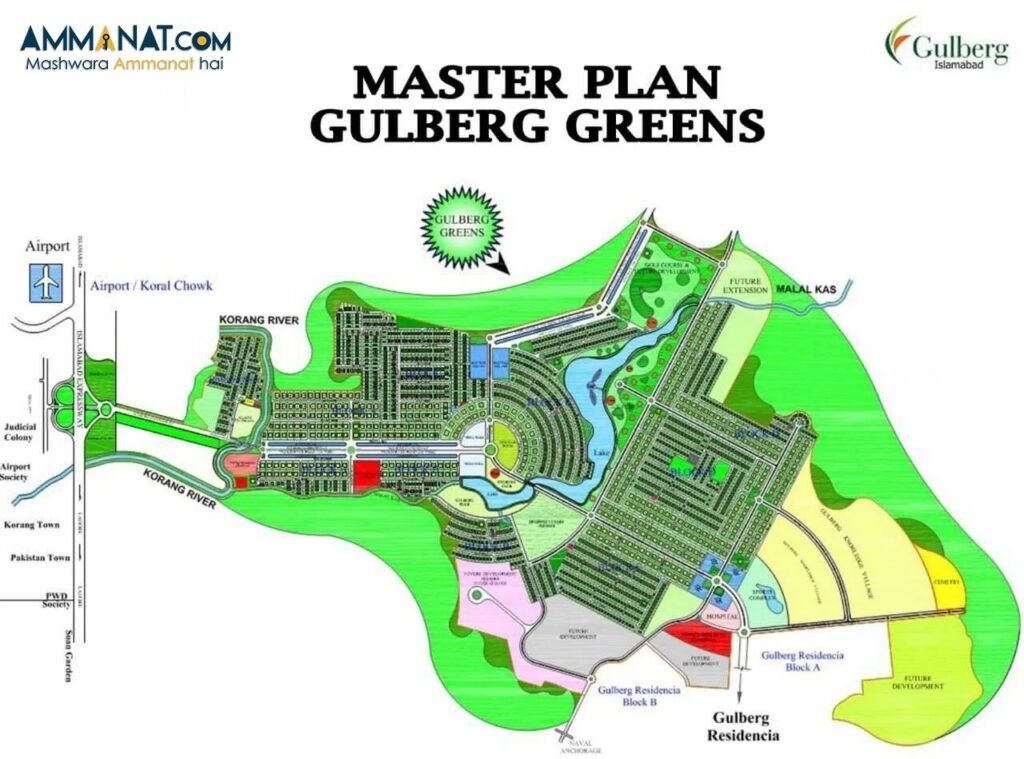 Payment Plan for 05 Marla Dream Villas of Gulberg Greens Islamabad
Total Payment worth 19,900,000/- only.
15% down payment with worth approximately 03 million only.
At the time of confirmation payable dues will be 15% (after 45 days of down payment).
Rest of dues will be payable in 03 years easy quarterly installment plan.
05% extra charges on Park facing and Corner Villas.
Only Ammanat.com has the most number of villas which are park facing and corner with best ever location.
Main objective of Gulberg Greens, Islamabad is to provide a peaceful, secure and supportive environment for its residents. The layout of society also includes wide solar-lit roads, lakes, bridges, underground electric and gas connections, tube wells for underground water supply system and storage facilities both below and above ground.  For making the society full of greenery, Gulberg Greens Islamabad is also planting trees around the roadways medians, walkways and road shoulders. Amusement areas, roundabouts, jogging tracks and beautiful mosques are also in the plan of society. Recreational areas for libraries, community centers and play areas for children, clubs, gyms, sports complex, food court, cinema and golf club are also included in the layout. Hospitals, dispensaries and medical stores are in the extra focus of developer. Keeping in view, Security measurements the Gulberg Greens, Islamabad makes sure surveillance of the physical entrance gateway, walls and CCTV in the society.